I've just received the latest and greatest updates on Salt Lake Comic Con. It sure is shaping up to be a great event. Hope to see some of you there!
Isn't it great that we get this event? I'll bet we never really appreciated what we were missing until now. Sure, we'd all been to some con or other, but we didn't really understand not having our own.
So, thank you Dan Farr and Bryan Brandenburg, for bringing the joy. In case you hadn't noticed: we appreciate it.
Oh, and just because: JAMES HONG! I definitely hope I can speak to him for a few minutes at some point. What a long career!
| | |
| --- | --- |
| |  Friday, July 18, 2014 |
Tony Stark's Car has Arrived in Salt Lake City!Salt Lake Comic Com thought the best way to get Tony Stark to our Comic Con was to bring his car here first! The Audi R8 Spider Comic Con Mobile has been wrapped and will be seen around town between now and Salt Lake Comic Con on 

September 4-6, 2014

. Look for this car around town at Salt Lake Comic Con pre-events or even at San Diego Comic-Con and tag us with @Salt Lake Comic Con #ComicConCar for a chance to win FREE Tickets.Click here for details.Join the Conversation on Facebook
One Day Tickets as Low as $7.50*Salt Lake Comic Con tickets are selling faster than a speeding bullet! In fact, our fans have purchased almost 3 1/2 times as many tickets as the same time last year!Ticket prices go up 

on Monday

. Right now Students can get a One Day Pass for $7.50! Get your ticket now and save! You can always upgrade at a later time so lock in the savings NOW!Check Prices and Get Your Tickets NowHave questions? Visit the ticketing page for answers or check out our FAQs.
James Hong
Help us welcome our next Salt Lake Comic Con 2014 guest… Actor, voice actor, and directorJames Hong! A prolific acting veteran, Hong's career spans more than 50 years and includes more than 350 roles in film, television, and video games.
Learn More
Check out who else has been announced!
Cosplayer Casting Call
Calling all cosplayers and actors — Salt Lake Comic Con needs you! Our partners at BYU AdLabare holding a casting call 

TOMORROW

. Audition to star in our cool new project! 
Learn More
Instagram ContestParticipate in our Summer Instagram Contest for chances to win tickets to Salt Lake Comic Con 2014! You have five weeks left to SHOW YOUR GEEK SIDE! New themes start every 

Friday

.Learn More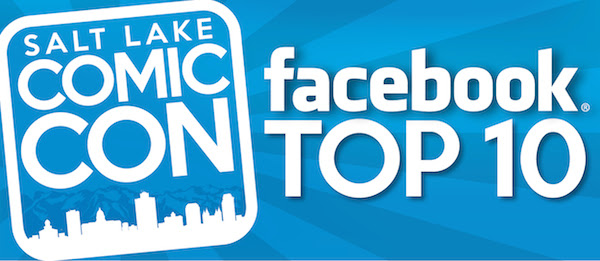 Facebook Top 10 PostsEvery week we post the Top 10 Facebook posts. These are the most popular memes or guest announcements, voted on by our FANS!Who Got the Most Likes? Find Out Here